Johnny Anderson's Autobiography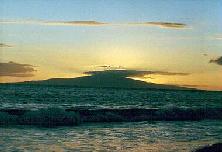 ---
Copyright © 1995, Johnny Anderson. TX 636 995 Washington DC.
PREVIOUS PAGE
An actual stop sign in the road was the highlight of our third day. This actually marked the point where we turned onto a different road. Now, we were finally on the last leg of our journey! A mere seven hours later we could see the outskirts of Perth in the distance. To celebrate our crossing, we had coffee in London Town which was in Perth. This was a small gathering of stores that was made to resemble an old English town and here we were, four days later.

It still didn't seem real to me. It was a very strange concept having left civilization, only to travel in a van for four days through nothingness, and then, only to be greeted by it again at the other end. On top of that, when the four of us finally parted, I felt even more lost than before I'd begun. It was hard getting used to being alone again after having just spent four intense days packed into a small van.

My accommodation yet again went back to Bairnsdale and the family that I was about to stay with in Perth, were friends of Sandra's neighbor. But this experience would be quite different for me because my hosts were Jehovah Witnesses. I'm not one to judge and declare what's right or wrong with any religion but I will say that the mother was very strange indeed. She was very anal about almost everything that she did.

For example she swept the tiles in the kitchen with a broom and this was done periodically and fanatically, but considering the floor was spotless as it was I often questioned her motives. It was very odd behavior indeed and the family certainly had some unusual mannerisms about them. But again going into someone else's home and making judgments isn't my kind of thing, but in saying that, three days with a Jehovah Witness family was enough to last me for a lifetime.

Perth was a distinctive city. Modern yet unhurried; friendly and open yet lacking the social madness of Sydney or Melbourne; urban yet clean and spacious. It was hot though! Symbols of the temperature that will forever burn in my memory are two candles I saw that were so melted by the heat of the day that they drooped towards each other to form an arch.

One place that I enjoyed immensely in Perth was Harris Park. This location was a simple cycle ride away from where I was staying. Like most recreational areas it held many flowers, trees and the usual quiet corners where one can sit back and relax. It was situated on a large area of land and there were various pathways to which one could ride along. But the different viewpoints of the city from this recreational site were splendid. Once again, I certainly put my camera to work.

One morning while I was in Perth and exploring the city I came across a young man who'd been staring at me for a while. He was carrying a clipboard and he had an eager expression on his face. Eventually he walked over to me and asked if I wouldn't mind answering a few questions. Almost instantly my throat dropped to my stomach. I was so enraged. This wasn't just imaginary Déjà vu; I really had been here before. "OK," I told him as I played along with his game and answered all of his questions politely, but without heart. By the time he asked his final question, "...And if you could do three things to change the world, what would they be?" I was ready. Remembering my father's terror and others' references to the people in my life as bad influences and to be avoided, I answered him.

"First, I'd get all the weapons of the world together and put them all in one place." He seemed inspired by this idea. "Then I'd get all the Scientologists from all over the world." With this statement he now seemed a little confused. "Then I'd blow them all to bits." Pow! I couldn't draw from any mercy inside me as I considered yet again how my whole future had come so close to being wasted due to people just like this. To this day I will never forgive the so-called Church of Scientology for what they did to me. I'm sure there are readers out there who fully believe in what they stand for. There are famous movie stars who are great examples of this. All I can say is all the best to you. But I also know that there are many people out there who have had their families torn apart because of this very sect.
NEXT PAGE
---

Click below to see: