---
(Posted Tuesday 8-4-98) Below is a well known phone card company. Their cards are a yellow background with the words "Global Key" across the top with LATINOS in big green letters underneath (Some of their cards are above and below this text). The planet is in the center of the card with various flags at either side of the planet. I've come across some really shitty customer service in my time, but this company has got to be the worst I've ever come across. Why? Because there is none, end of story. Please read on.
Dear Sir/Madame, I'm conducting this letter to you to share my utter and complete disgust with your company. I've heard of some bad customer service over the years regarding companies in the States. However, my experience with your company has once again proved to me that more and more businesses out there are more concerned with making an easy buck than with quality of their services and care of their customers.

On Saturday August 1st 1998, at around 09.14a.m. PST, I used one of your cards to call my mother from a residential line. I had a lot to tell her about my upcoming wedding. I had previously told her that I'd call her today before 10.00a.m. PST time. I like to call her opposed to her calling me, as the cost for her to call is phenomenal. I had "44 minutes for UK calls" at the beginning of this call. Before I called my mother I made a "1 minute call" to a neighbor of hers. Not being in I left a message on an answering machine. That whole call was under a minute. Dialing my cards pin number again straight after that call, I was horrified to hear the computerized voice inform me that I was now down to "18 minutes for a UK call." Not wanting to even touch the card I called your customer service number at 1-800-704-9066. Listening to the 24 hour Customer Care menu options, I pressed "3" for an "RSL Prime Call customer care representative." As a male computerized voice continued, I'm told that my call is "important to you" and as all representatives are busy at that time, an RSL Com Prime Card Customer care representative "will return my call within one hour." Well, that's nothing unusual, although most phone card companies that I've dealt with over the past three years have usually put me on hold opposed to throwing me straight into their voice mail system. So, I left a message explaining the above, giving my phone number, name and my problem. I left my pin number (*%$ @#% *&%) and began to wait and wait and wait and wait!

I left a message every hour on your RSL Com Prime Card Customer care representative's voice mail for nine hours straight. Do you think anyone called me? No. Now I'm left here with a phone card that has cheated me 25 minutes of time and money. To make matters worse my mother, who was naturally wondering what had happened, ended up calling me. My mother doesn't have much money and the whole point of my weekly call to her is to avoid her spending money for a very expensive call to the US.

After waiting all day, your "caring company" hasn't even got the decency to call me back. This so-called 24-hour customer service support is unacceptable. I'm very upset at your company and I would like to know why I was never called? Also, having over 1,500 phone cards in my home, (as I'm an avid collector of them) how you, are the ONLY company that I've come across who imposes this "29 cent monthly maintenance fee." What maintenance do you have to do? What's the difference between your maintenance and other phone card companies? They DON'T charge for such a thing and address customer problems in a timely and efficient matter. How can you justify this?

I await your reply on these matters,

Johnny Anderson.
I called Global Key once a day for ten days straight. By Monday August 10th 1998 I'd still not had one response back from their customer service?
-------

UPDATE. I sent the above letter to the EXACT address that I was given on 8-16-98. SIX MONTHS later that same, un opened letter was returned to our home. The address, according to the post office didn't exist. I still have the sealed envelope to this day. What a load of crap!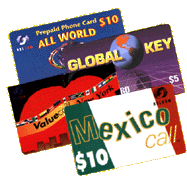 Back to Some really Pathetic people.
---
Click below to see:-
http://members.tripod.com/~johnnyspage/latinos.html